This post is also available in: Français (French)
Get your own property valuation for Samoëns or the surrounding towns on our dedicated Property Valuation page.
We have traditionally written market reports for all the ski stations in the Haute Savoie together. This is the entire area covered by Alpine Property. This year we'll focus on some of the individual ski towns. This way we'll be able to go into more details. For this report we will focus on Samoëns property valuation.
This report has been compiled using one of the leading price evaluation algorithms in France. We have been using this within our agency for a while and find it very reliable. It draws information from historical data gathered from the Notaires and current real estate listings. If you would like a personalised free valuation then please contact us. Or if you are just looking for the property we have for sale in Samoens have a look here.
As of the first half of 2022, the property market in Samoëns has been extremely dynamic. Demand is outweighing supply. As a result of working from home due to Covid restrictions, there has been a noticeable movement of buyers (mainly French) seeking homes which can be used as their principal residence . International buyers have returned including investors who are keen to secure properties through video tours or live virtual visits with an agent. One positive outcome of Covid is that it has pushed the Notaires to modernise by enabling power of attorneys to be signed digitally thus facilitating transactions remotely.
From the buyers point of view there has been more focus on individual stand alone properties. The priority is space for a home office, a good internet connection and a garden. Traditionally people have wanted to be close to the ski lifts. Now more isolated areas are being considered, Substantial properties with a view are sought after, as are small stand alone units that can be transformed. Also spacious 2 or 3 bedroom apartments with decent terraces or balconies with a view.
On the skiing side, there is the new Vercland Gondola just above Samoëns. This new lift has 10 seater cabins that travel from Vercland to Samoens 1600 in an impressive 7 minutes. It opened this season 2021 /2022 (postponed from 2020/2021 due to Covid). Super fast and efficient. To help with access there is an increased shuttle service between the Grand Massif Express and Vercland. There is also work scheduled to improve the parking at Vercland.
Politically, there is a new administration under mayor Jean-Charles Mogenet, the administration is keen for diversification of activities to be offered year round, proposing Samoëns as a "Four seasons" destination. This is a very positive outlook for our customers looking to invest in a rental property in the area and also for those who wish to make Samoëns their year round residence.
We have done a brief resume of the current prices in Samoëns. Obviously for accurate figures we would need the exact location and state of the property.
Reference Apartment,
Close to the centre of Samoëns
60m², 2/3 bedrooms, 2 bathrooms
Price 372 000 € (6 200 € / m²)
Between 342 000 – 400 000 € (5 700 – 6 666 € /m² )
Reference Chalet
Close to the centre of Samoëns
140m2, 4/5 bedrooms, 3 bathrooms on 600m² of land
Price 850 000 € (6 070 € / m²)
Between 725 000 – 958 000 € (5 180 – 6 840 € /m² )
You can see from the figure below that the prices have accelerated quickly since the beginning of the pandemic.
And below how the distribution of the available properties is spread between chalets and apartments. A 30/70 split is fairly typical for our alpine towns. You can also see the strong growth of number of available apartments since 2010.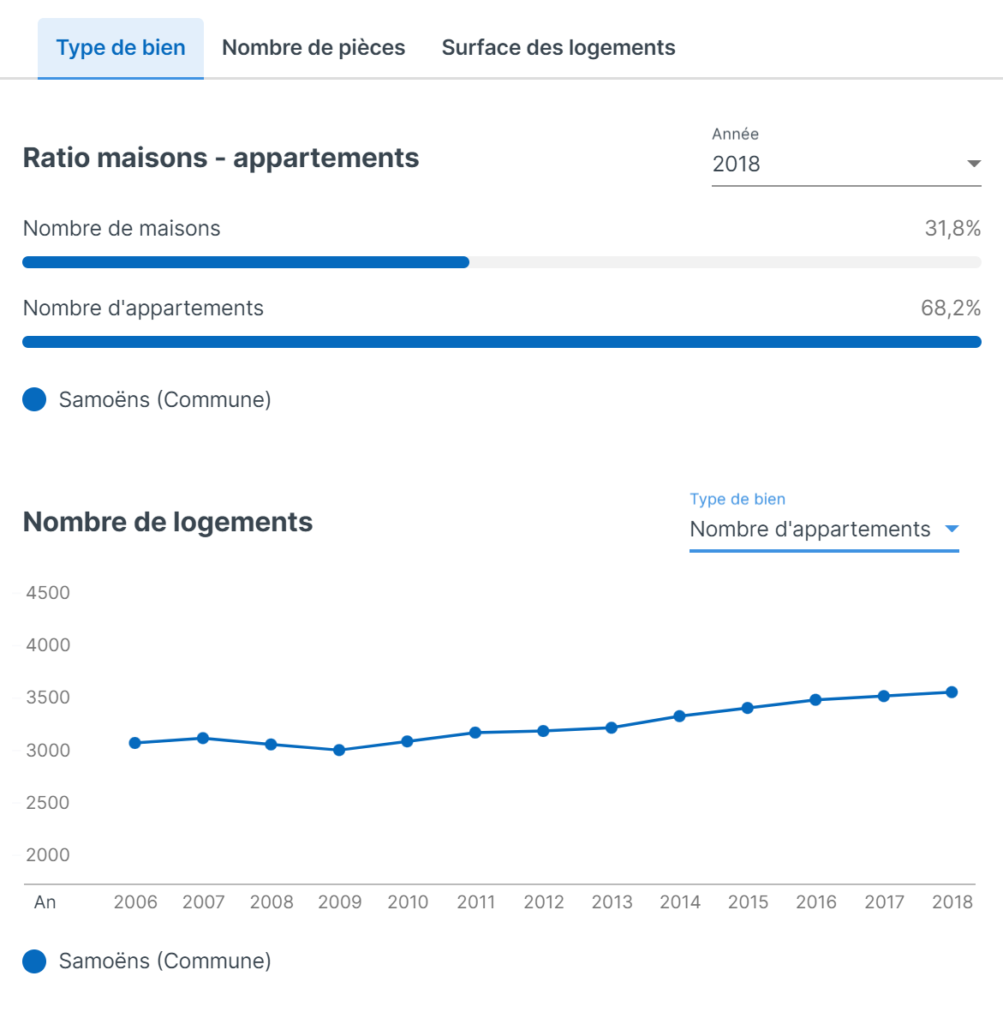 Obviously Samoëns is well placed for the skiing and surrounding mountains. But if you are living there all year round and running a business remotely too, access to Geneva becomes more important than ever. You can see from the image below Geneva is just outside the 45min range and Chamonix too.
The population in the Haute Savoie is on a general upward trend. It is one of the most dynamic departments in France. Despite this many of the popular ski towns in the regions are seeing a population decline as people are pushed further down the valleys due to the prices close to the centres. This is not the case in Samoëns.
There is access to some of this valuation report for Samoëns or the surrounding towns on our dedicated Property Valuation page. Or contact us directly for the most detailed analysis.