The weather in the French Alps is generally good. When compared to many other mountain ranges in the world you can expect less rain in the French Alps! It can be miserable though and when a rainy period hits your week's holiday thinking of things to do can be a challenge. I've lived in the Portes du Soleil for 18 years, run a holiday business for 10 of them and brought up 3 children for 15 of them. So far this week the Haute Savoie has received a months worth of rain. And now there is snow falling at 2000m!
Here are my ideas for wet weather activities.
Canyoning
You are going to get soaked anyway, and whatever the weather you will need to wear a wet suit, if for no other reason than it offers a bit of protection from the knocks that you will inevitably get! Wearing a wet suit on a hot day can be a bit much so take advantage of the weather and go canyoning in the rain! It's quite an expensive option (55€ for an adult) but well worth it.
Rafting
Ditto the comments on Canyoning. A less expensive option at 38€ for an adult. Once you have tried rafting your can always go back for Hydrospeed.
Ice-Skating
Chamonix, Morzine and Megève all have Olympic sized covered ice-rinks (Patinoire in French), the children will love it, for you it might bring back some bad memories!
Swimming pool
There are plenty of open air pools across the Alps. On a rainy day they are still open but will be deserted. If you want to swim some lengths a rainy day is the perfect time to do this. If this sounds a bit too hardy then almost all of the alpine resorts now have covered swimming pools too.
Cinema
Most of the main alpine towns have cinemas. Cinéma Vox in Chamonix, Cinéma Rex in Morzine, Cinéma Le Criou in Samoens, Rochebrune in Megève, Ciné Mont-Blanc in Sallanches, Le Danay in La Clusaz and Le Choucas in Les Carroz, to name most but not all of them. Allocine is the website that tell you what is on and when. I know that the cinema in Morzine puts on an extra matinée show when it's raining.
The Mechanical Music Museum in Les Gets
It's a bit of a standing joke in our family, and admittedly we have only been once. Despite this it should not be missed! The Musée de la Musique Mécanique is open in the afternoon almost all the year. It has 4.5 stars on Trip Advisor 2/16 for things to do in Les Gets (the first is skiing).
Gorges du Pont du Diable, Vallée d'Aulps
One of the most popular tourist attractions in the Haute Savoie. A guided walk in a deep, narrow limestone gorge. Long opening hours, and a long season. The Gorges du Pont du Diable doesn't cost the earth either (22€ for a family of 4), it is accessible from Morzine, Les Gets and St Jean d'Aulps via the Balad'aulps bus. It's dark and damp in the gorge so a bit of rain makes no difference. There is a café and a geology visit by the parking too.
The following activities will require a car.
Olympic Museum in Lausanne
You can either drive around Lac Léman or take a ferry (good fun but not cheap), to visit this suburb museum, don't take my word for it, it is #1/87 things to do in Lausanne on Trip Advisor. It's also quite good value which is hard to find in Switzerland at the moment. Just 40CHF for a family ticket. More information is on this link.
Chillon Castle
Again, this gets a top rating on Trip Advisor. At the eastern end of Lac Léman, the Château de Chillon is a really hands on exploration of a fairy tail castle. Perfectly preserved thanks to the fact it has never been attacked! They do a great value family ticket for 29 CHF.
Salt Mines at Bex
This is only open in the height of the summer, it's an underground visit so the weather conditions are not important! Not too expensive either. There is more information on their website. Sel des Alpes.
Thermal Spas
The French Alps are full of thermal springs that have been turned into thermal spas and swimming areas. They all have inside and outside pools but considering these pools are often at the temperature of your bath it does not matter what the weather is like.  I've been to Les Bains de Val-d'Illiez  and Lavey les Bains' as they have big pool complexes with them. I've never been to the spars in Evian-les-Bains, Thonon Les Bains or St Gervais-les-Bains, but the clue is in their names.
Go for a walk or bike ride
It's always hard heading out into the rain but you know you'll enjoy it afterwards. Stay low though, heading up the lifts or onto the mountain tops doesn't make much sense. Keep it short too.  Use some tactics. It rarely rains all day. Use the alpine weather forecast and rain radar to pick the best time of day to go outside. When I worked as a walking and biking guide we had a plan on a rainy day. We would only ever manage half a day in the rain. So if it is raining in the morning, chill out until later in the day, then go for a ride in the rain, or if you are lucky it will have stopped which will be a bonus! There is nothing worse than going out in the morning, giving up at lunch and then watching the sun come out in the afternoon! If you want an objective then search out a waterfall to look at, they look their best in the rain, there are plenty and they are generally marked on the maps.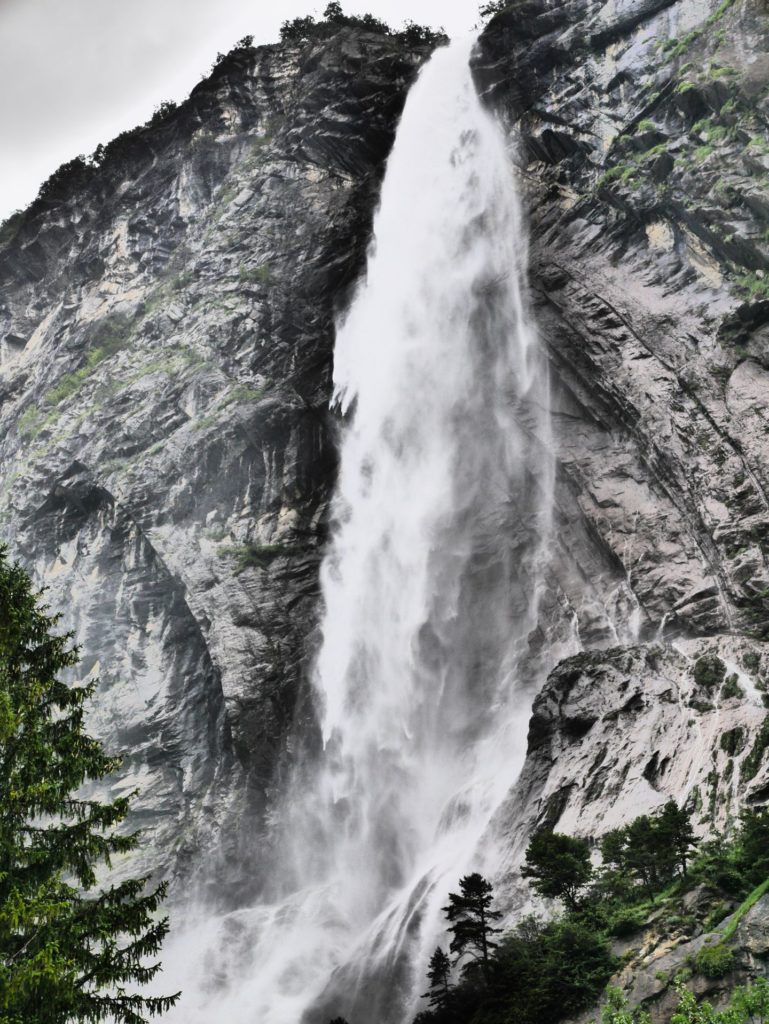 Board games
You never have an afternoon spare to play board games with your family at home, so revel in the opportunity whilst sheltering in your cabin on holiday. Reach for the Monopoly or Scrabble and make the most of the "down time" forced upon you. Nice and cheap too!